I'm JoJo Tabares and I'm a Purple-Haulic!
Purple has always been my favorite color, even as a toddler, but when I was a kid, you couldn't find anything in purple.  I'd get so upset when relatives would give me blue things for my birthday because "it was close to purple."   Purple is a rich and bold color and nothing is its equal!
Over the years, I have collected purple things.  I wear purple clothes.  I have a purple cell phone, purple in almost every room of the house.  Thankfully my husband is a dear about supporting my purple habit!  I have purple notebooks, purple drapes, purple shoes and my mom even found me a purple cutting board with matching purple rubber tipped mixing scraper!
I admit it!  I'm a Purple Freak and I don't care who knows it!  I'm PLUMbody!  If you're PLUMbody too, come join me each day as I blog about the history of purple, the colors of purple, the things you can find in purple…  I'll be posting purple stories, purple products, purple pictures, purple recipes, purple contests, reviews of purple products and my own person journey through…
The Purple Project: a year-long challenge to myself to do a purple project per week and document it here for you to do as well with your fellow Purple Freaks in your neck of the purple woods!  I'll be posting pictures and instructions for completing each purple project each week for 52 straight weeks!
I make my purple home in "ARIDzona" where purple flowers reign in the desert.  I am purple mom to a daughter, 21, who is away at college enjoying her GREEN room and my son, 11, who likes yellow.  I have been married 24 years to my husband, Rich who likes teal blue.  But I remain forever purple.
Come join me and share your own purple stories!
—————————————————————————————————————
Connect with JoJo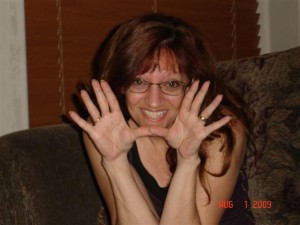 I'd love to connect with all purple lovers all over the world!  Here's where you can find me:
Purple Fans Unite on Facebook!