Easy Peasy Sandal Craft!  I had these black sandals which I love because they are comfy. They go with so much because they are black, but I wanted a wee bit of a purple touch so I took my handy dandy glue gun and a little dab will do ya!  Viola!  A purple jewel of a sandal.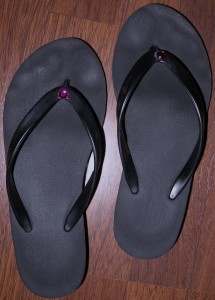 Just be careful.  They can pop off if you poke them because they are on a shiny surface of plastic.  But I have another sandal craft I'll be showing you next week that will be more permanent and comfy looking!  Stay tuned!
And Have a GRAPE Day!