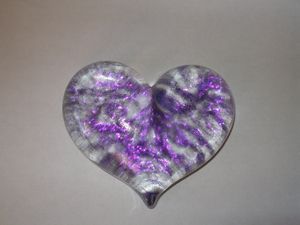 Last Friday was my very last Purple Project.  I can't believe it has been a year since I challenged myself to purple-ize something each and every week for a full year.  There have been 52 different Purple Projects. Some have been rousing successes and some have been abject failures.  Some were fun and some were a big pain in the tushie!
I am excited to see the project end in that I no longer have to scramble each week to find a new, different and exciting project.  I know my dh is happy we don't have to spend any more money to keep me in purple project craft supplies!  A big rousing applause for my dh who was so incredibly supportive of my propensity to purple-ize this past year!  Also now that I'm done experimenting, I can start picking through the projects to see which ones to include in my upcoming book, Purple-izing for Pennies!
I was also rather sad to see the project end because I wasn't sure what I'd be posting on Fridays!  BUT I think I have a great idea that will benefit all For the Love of Purple.com readers!  I am going to be replacing my purple project with a weekly Purple Product Review!  I'll try various products and let you know if it's worth it  before you spend your own money on it.  Remember my review of the Palmolive Phosphate Free Dishwasher Detergent?   That saved a lot of you out there some damage to your dishes!  I'm still reeling from white stuff on my butter knives!  What do you all think of my idea?
Have any purple products you'd like reviewed?  Any you liked or didn't like and want to review them yourself?  I think I'd like to consider Guest Reviewers on Fridays too.  You could either write one up yourself and submit it to me to be considered for an upcoming Purple Product Review or you could post it on YOUR blog and I could refer to it here.
Got a purple product that YOU sell?  Submit it to me for review!  I'll include a link to your site or Facebook Fan Page if you have one!  To submit a product for review, email jojo@fortheloveofpurple.com with "Purple Product Review" in the subject line.  I'll email you the details.
Either way, have a GRAPE Day!