I have another grape product to bring you from my friend, Dyanna Yost, at Scentsible Suds and Soy!  Remember when I reviewed her white and purple confetti lavender soap and her soy candles?  Well, here is another purple-icious bar soap!
This deep purple, Relaxing Lavender soap has "Saponified Coconut Oil & Palm Oil. Lavender Buds, Lavender EO & Ultramarine Violet."  It's a wee bit like an exfoliating soap but much less harsh on your skin. Feels WONDERFUL!   You can check out all her scented soaps here!
Also, while I was at her booth at the craft fair here in ARIDzona, she gave me this grape soap keeper.  This was the special gift she was giving out to all my readers!  Isn't it just grape?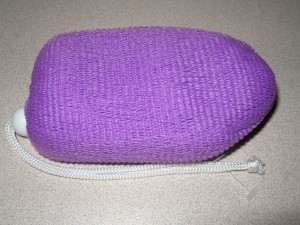 You can put the soap inside and use it like a sponge.  I actually love to use the soap the way it is but it's a grape place to keep the soap so it lasts longer in the shower!
I'm going to the craft fair later this month and I hope Dyanna is there with her booth. I'd like to get some more of her confetti soap.  How about you?
Have a GRAPE Day!