Well, I can't show you my living room because we don't have any living room furniture.  Instead, we have all my son's toys, his foosball table, his activity center and his video station.  None of it is really purple, I'm sad to say.  We do have maroon-ish purple curtains and reddish walls.  🙁   So that completes the downstairs of the house as far as purple is concerned.
So this week we will begin with the upstairs.  Unfortunately there isn't much of that which I have been able to purple-ize.  My dd and son's rooms are both green, although my dd's room does have purple curtains to accent her green!
My office is mostly purple and my bedroom and master bath is also purple. So this week I'm going to show you my office.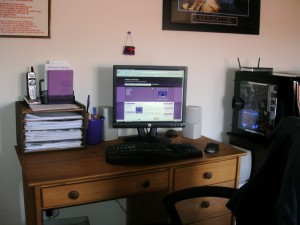 An office is mostly large and expensive items like, your desk, bookcases, computer, chairs, etc.  Sometimes it's hard to purple-ize the big things because it can get expensive…or too purple for your dhs! LOL  I wouldn't put in a purple desk.  BUT…you can do some little, inexpensive things to accent your office!
You can see the For the Love of Purple.com website on my computer screen.  To the left of that is my purple pencil holder complete with purple pens and pencil.  I have a purple devotional book on the stand and the tiny purple and red purse hanging on the wall.
What you can't see in the picture is my purple notebooks and folders in the organizer.  My purple pen in that pen holder.  I also have a purple keepsake box and my purple heart mug I made for one of the Purple Project weeks.  In addition, I have two purple bears on the book case to the right of my desk with a purple ribbon awarded to me by my dd a few years ago.  I also have some purple books and markers on that bookcase and a big purple book holder with a dark purple covering. Lastly, I have purple Rit Dye and a canvas bag with my purple Art of Eloquence logo sewn into it.
In the bookcase behind me are some purple books as well.  Oh and my purple fuzzy planner that moves around the office.  It has a purple gel pen.
Well…that's my purple office!  Please post your pictures to your purple rooms in your house!