This week I transformed a boring cardboard memory box into a purple keepsake delight!  Here's what it looked like before I started:
I painted the outside with some purple fabric paint which can be used on any porous surface.  Then I added a few heart shaped touches with some purple glitter puff paint.  Here's what it looks like now!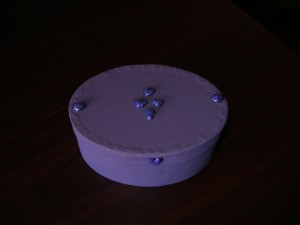 These make great gifts for Christmas!  You can get several of these boxes at the Oriental Trading Company for a song.  The puff paints and fabric paints are really cheap at Walmart.  Don't forget to try Walmart.com (our affiliate link) to get your supplies.  Each time you do, you help support this site!
Every Day Low Prices at Wal-Mart Every Day Low Prices at Wal-Mart
Decorate them as you wish and give them away!  Fun to do!  Lots of ways to decorate them!  AND you save money on gifts too!
Have a GRAPE day!