The Purple Project is moving right along with this week's entry: From Drab to Fab in Purple!  Here is an old shirt someone gave me.  It was kind of yellow cream colored.  Not my best color for sure!  I used to wear it for PJs in the winter cuz I wouldn't be caught dead in it during the day!!!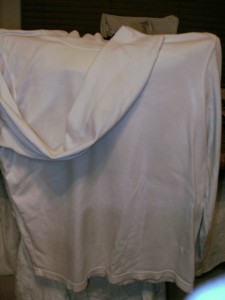 I not only tied this before I dyed it, but I allowed the bottom to soak much longer giving it a darker purple hue!
You'll see me around town in it soon!  In fact, I made my mom one in wine color. We're going to wear it on the same day and be the Bobbsie Twins! LOL
Have a GRAPE Day!