Before I get to this week's Purple Project…
You may notice that FortheLoveofPurple.com looks a bit different today.  Well, that's because I have been having problems with some of the widgets, links and affiliate badges as well as the load time of the site.  I have talked to my hosting company and each time they give me a different reason and solution, which throws me into a Purple Fit!  I decided to try a new template and found that some of the links and widgets came back!  Purple Cheers!  BUT, the site still loads very slowly.  No Violet Victory here…  However, I will keep working on it.  I have to call them back today and will keep you informed.  If you have had a problem loading the site or with the links, please post here.  Purty Purple Please?  Cuz I want to be able to share this with the folks at my hosting company. You see, they think I've gone Purple Loopy!
And now for this week's Purple Project!…
Ok this week I decided to try a craft I've never done before.  I wasn't at all sure how it would come out, but it looks pretty cool!  And PURPLE! I started with this pretty glass heart paper weight: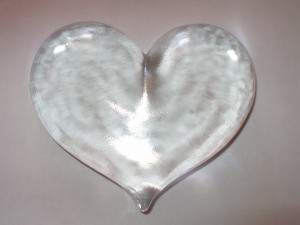 I took purple glitter puff paint and swirled it all around the back of the paper weight and viola!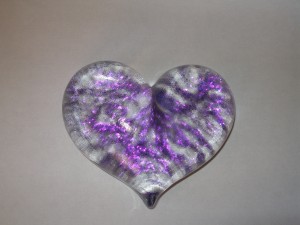 Isn't that gorgeous? Now you try!  and…Have a GRAPE Day!