Ok. This is the last week of my purple-ized house.  We end with the master bedroom and bath.  My folks just gave us a very nice plum colored bedding set that I posted a few weeks ago.  We can't always go out and buy a new bedspread and pillows so later on in the year, I'll share with you how to purple-ize your bedding even if you can't get a new bedspread.  But for now I'll share my lovely new plum bedding and point out all the other purple touches I have done to our master bedroom over the years–most of which is very inexpensive to do.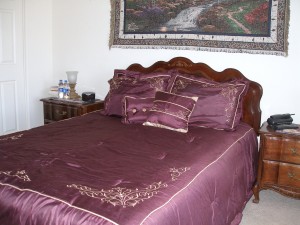 One of the things we did was purchase a Thomas Kinkade throw to put up on the wall.  They are MUCH cheaper than trying to find artwork to fit a wall this size!  And it has lots of purple touches.
Another thing we did was buy some placemats to put down on our night stands as one of them was damaged quite badly during one of our moves.  It hides a multitude of scratches and purple-izes too!   I also have a purple ceramic piece on my side that isn't pictured where I put my hand cream and such.
What you don't see is that opposite my bed is my dresser which has lots of purple jewelry boxes and accessories on it.
To the right of the dresser is the master bath which has lots of purple-ization.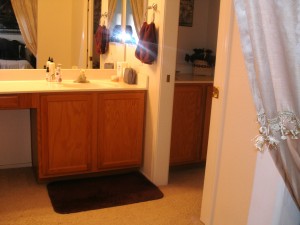 The master bath has purple mats and towels as well as lots of purple touches.  I have a purple soap dispenser, lavender make up bag and a piece of artwork on the wall behind this which has purple and lavender flowers.
Inside the door there is a ledge with purple flowers and a purple ceramic tray with a purple candle on top.
I tried to find a purple toilet cover but was unsuccessful!  ROFL
Of course it goes without saying that my brushes and hair thingies are all purple and that my toothbrush is purple.
I actually have three purple soap dispensers and one has a matching toothbrush holder where sits my purple toothbrush.  I have yet to find purple toothpaste!
Here is a better picture of the ledge with my purple shrine. lol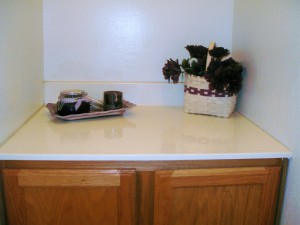 So that's my last place of purpledom in my home.  I hope you have enjoyed peeking into my purple life and have found some tidbits of ideas you can use to purple-ize your home inexpensively.
Starting next week, I'll have some more purple craft projects for you.
Remember that it doesn't have to cost an arm and a leg to have a purple-ized life.  It just takes a wee bit of creativity and a few ideas from which to get that spark!
Have a GRAPE Day!