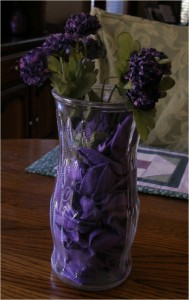 Ok this was really a test of my creativity!  lol  I had it in mind to do several projects where I would use purple dye.   I found the purple dye last week at the store and didn't buy it 'cuz I'm a purple ding dong!  Last week I went out and they were all out!  I couldn't find it all week so I was stuck for a purple project for this week.
A big thank you to all the ladies over at the For the Love of Purple Fan Club on Facebook for the inspiration and support!  Here's what I did!
I found a bunch of old purple balloons and put them into a clear vase with a sprig of purple flowers.  I was surprised at how wonderful it looked on my dining room table!
This one is very easy to do, purple gals, if you have almost a full bag of purple balloons, but I'll bet it would look just as nice filled with a bunch of purple beads or several strands of faux purple necklaces-the kind you get at Mardi Gras.  Or perhaps a bunch of purple marbles or glass half spheres like you can get at Michael's Craft Stores.   It would even work well with purple tissue paper, shredded purple construction paper or even shredded purple tissue paper or that dark purple grass like substance they use for the bottom of Easter Baskets or inside of gift bags.   Pretty much anything will do!
Get creative and have a GRAPE day!