A long time ago, I purchased a few inexpensive plain white coffee mugs to use for crafts..  I had one left.  It sat in my craft basket for a long time waiting for someone to notice it.  It was lonely.  🙁   It needed some heart…some purple hearts…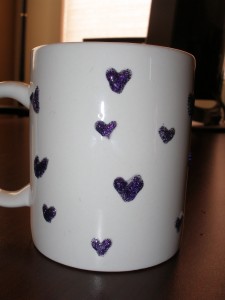 Materials Needed:
White ceramic coffee mug
Purple glitter puff paint
Directions:
Hold the puff paint bottle close to the mug and squeeze a bit of paint to one side and then to the other.  This makes a heart shape.  Make hearts of various sizes in a random pattern all over the mug.  Keep the very top fairly clear of puff paint for ease of sipping.  Don't put puff paints on handle.
Warnings:
Do not put puff painted mug in dishwasher or microwave.  In my experience, once once the puff paints dry thoroughly a few days, it works well with hot coffee or hot chocolate.
Have a purple-hearted day!