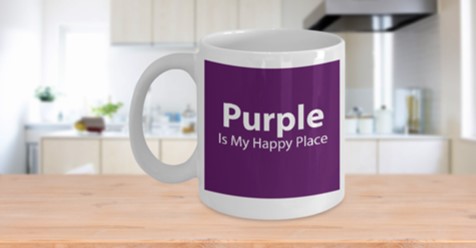 Our sister site, MugXpressions, is testing out a brand new line of products starting with this Purple Is My Happy Place mug!
It would be a much longer and expensive process to release these on Amazon first so it was decided to make them available on Gear Bubble.
We've tried out a bunch of purple sayings over on the For the Love of Purple Facebook fan page and wanted to start with this one to see how it goes.
BUT…we will be introducing more purple sayings on various mugs in the future so stay tuned as there will be more to come!
Make sure you're subscribed to the Grape Value News mailing list to make sure you get the weekly free gifts, exclusive discounts, and special offers as the newest purple products will be announced there first. And, since there will be a limited supply and time they will be offered, you're going to want to know as soon as possible when they are available!
PLUS: You get a free gift just for subscribing!