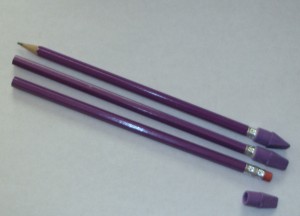 Sunday is Mother's Day so….Happy Mother's Day all you purple people out there!  Here's an easy  grape way to add a bit more purple to your life this Mother's Day.  Remember those purple pencils I reviewed a while back?  Well, they're back with an even more purple twist!
You can cover up those unsightly orange/red erasers that don't last very long with these purple-icious purple pencil toppers!  Just pop 'em on for more grape fun!
They're purple, they last longer and they're easy to apply and they're  cheap!  What more could a purple nut want out of a purple make over?
Try it; you'll like it and have a GRAPE Day!