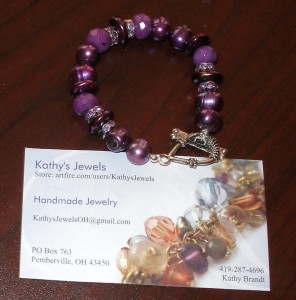 My dear friend Carla, from The Reluctant Wahm and GhostWriteHer.com  sent me this gorgeous purple bracelet last week.  Isn't it darling?  The shade of purple is exquisite and it fits PERFECTLY!
Now that's saying something because I have a very small wrist.  Most bracelets fall off my hand, but this one was made especially for me so it couldn't be a better fit.  I have no idea how she did it. I'm in Arizona and she's in Ohio.
Kathy's Jewels are all handmade with love by Kathy Brandt.
Here's from Kathy's Bio:
"My name is Kathy, otherwise know as Kathy's Jewels.
I have always loved doing different crafts growing up. My grandmother taught me how to crochet when I was a child. We also learned crohooking (a form of crochet and knit, all done on one stick). I have done many counted cross stitch items as well as other crafts.
I have always loved jewelry and found beading online a few years ago. I started to make items…and more items, so decided to sell some of my jewels online. I make the basics: bracelets, necklaces and earrings. Being an older adult it is hard to find necklaces and bracelets that fit, so I tend to make mine a little larger than a skinny teenager would wear. If you need something a special size, contact me and we will work out the details.
I hope you enjoy my work.
I also do repairs. Email me for a quote: kathysjewelsoh at gmail dot com (make necessary changes)."
Kathy's Jewels has some other purple items, too!
Thanks Carla and Kathy!  I'm enjoying this beautiful grape bracelet!  Have a GRAPE Day!