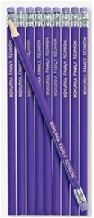 X
Oriental Trading Company has a ton of purple items all reasonably priced!
I love their purple pencils,  not just because they are a true purple, but because you can personalize them!  I have used their purple pencils to help advertise Art of Eloquence in the past.
You can get them personalized with up to  characters/spaces and they are only $5.99 for 24 pencils!
Check out all their fabulous purple products here!  And have a GRAPE day!