Tie dye is back and in a new way.  I just found this fabulous spray dye.  It's easy to use and it creates a fun design without almost any effort!
I had this very dingy, what used to be, white tshirt that I had embroidered with my Art of Eloquence logo.   I haven't worn it in a long time because it looks almost grey.  I can't bleach it or the embroidery will fade too. Here's the tshirt before I dyed it.  I hate to admit this, but notice the discolored underarm areas.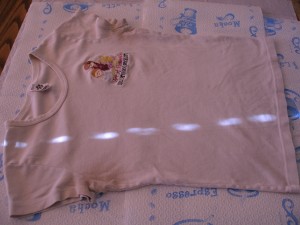 I used Tulip Fabric Spray Paint on the front and the back.  I sprayed lightly creating a splatter pattern.  Take a look now!  The dingies are gone and so is the underarm discoloration!
Isn't this fabulous? I'd wear it all the time NOW!
Have a GRAPE day!