I started this blog at the insistance of my mom who said there must be more people out there that love purple as much as I did.  That was back on August 29th of 2009.  My first post asked the important question, Are you PLUMbody?  Here's what I wrote: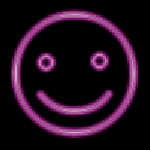 For Purple Fans everywhere to share their love of purple!
"And a certain woman named Lydia, a seller of purple, of the city of Thyatira, which worshipped God, heard us: whose heart the Lord opened, that she attended unto the things which were spoken of Paul." -Acts 16:14
Some may like pink, others may like blue, but people LOVE purple!
As this is my first purple post, I thought I'd share my purple vision.  For the Love of Purple is a place for purple lovers to hang out and share purple stories, learn more about what's available in purple, share purple craft ideas, purple pictures and purple recipes!
On September 8th, I'm going to start The Purple Project: a challenge I hope you will either follow or join.  I'm going to attempt to do one purple craft project a week for a full year!  That'll be 52 purple craft projects total!  I'll be documenting them with instructions and pictures so you all can follow along!
My mom and dad tell me that when I was a baby traveling with them in a car, I turned purple. There was no air conditioning back then and YES I'm that old! lol  Mom says ever since then, I've loved purple.  I don't remember that incident, but I can tell you that purple has been my most favorite color in the world since I was knee high to a plum.
Well, that's my purple story and I'm sticking to it.  What's yours? Are you a lover of purple?  Come share your purple story!
Have a GRAPE day!