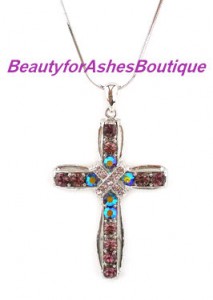 Last year I reviewed a gorgeous amethyst CZ bracelet from Beauty For Ashes.  Well, Janet sent me another simply incredible and most exquisitely purple item!  This purple cross!
It's actually much more purple than it shows in this picture and more beautiful.  Heres's a little bit about this necklace:
"This gorgeous cross pendant shows Austrian crystals in pale amethyst, dark amethyst on the outskirts, with lavender aurora borealis crystals near the center. Cross measures 2 1/4″ x 1 1/2″ including the bale. Snake chain is 16.5″ plus a 3.5″ extension in Silvertone Rhodium! These crystals look different in different lighting."
Again, this jewelery is not like the cheaply made tin stuff you find at discount stores!  This is a solid piece and very well made.  It's almost heavy.  The chain is smooth and sits very nicely on your neck.  The stones are brilliant to look at!
Janet has a lot of purple jewelry on her site and every purchase supports ministry work!
"A portion of your purchase goes towards ministries such as rescuing children in sex slavery, Evangelism, Giving to the poor, and setting free the oppressed. Thank you for shopping at Beauty for Ashes Boutique!"
You can also find Beauty for Ashes on Facebook.  Thanks, Janet, for another beautiful piece of purple jewelry!
Have a GRAPE Day!