With unsweetened apple sauce.  Delish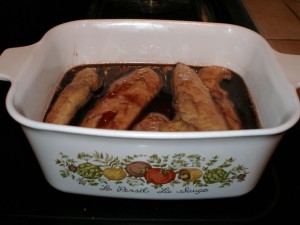 A friend of mine said she made a good chicken dish using grape jelly.  I thought it sounded gross, but she said it was really good.  So I looked online for a recipe and found several. Some used dried mustard, some used ketchup. Some used lots of different spices and some used just these ingredients.  I didn't have most of these ingredients so I was still searching when I discovered that one of the recipes using just mustard and ketchup said it tasted almost like a grape BBQ sauce.  So I decided to try it using BBQ sauce!
It was very good, but I hadn't used the rest of the grape jelly in a long time.  In talking with my daughter on the phone about her dinner plans, I got the idea to add unsweetened apple sauce instead of BBQ sauce and to use my crockpot instead of my oven.  So I tried it.  Know what?  It was really good and it created a thicker sauce with a unique texture.  Here's the revised recipe.  Try it and tell me how it turned out for you!
Ingredients:
1 cup grape jelly
1/4 cup BBQ sauce 
squirt of Dijon mustard  (Replace both of these with unsweetened apple sauce)
1 pound chicken tender strips
Directions:
Line the bottom of the crock pot with chicken tender strips and add in the grape jelly. Pour the apple sauce on top, just enough to cover the chicken.  Set the crock pot for whatever time frame you need, stirring occasionally until done.
Do you have a grape purple recipe?  Pleas share it here.