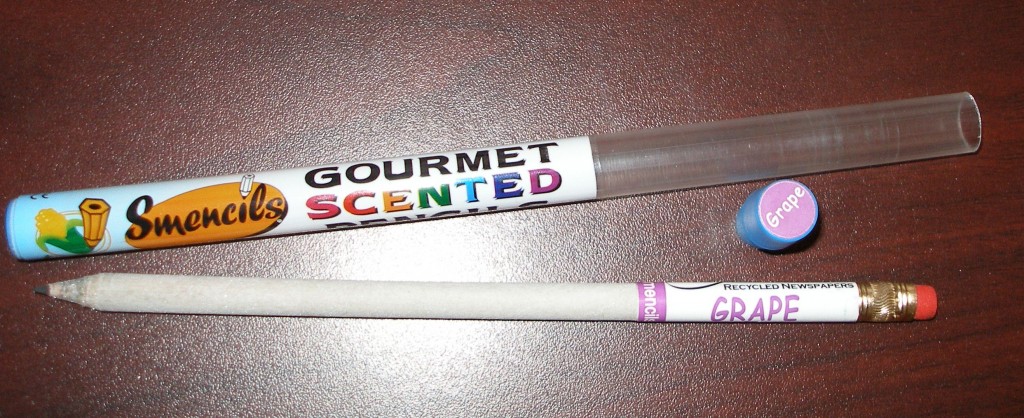 I was at a learning store one day when I spied these "gourmet scented pencils" called Smencils.  Being the big spender that I am ($1.67 with tax), I purchased one to see just how grape it was and I have to say it does smell a LOT!  Yum!  I'm not sure how grape it smells but it does smell nice!  It comes in this case where you can keep the smell from escaping until you want to give your nose a treat. The pencil feels kind of cool.  It's not smooth or shiny but has a powdery yet gritty feel to it.  It certainly won't slip out of your hand and it writes just like any other pencil.
However, there is very little about the grape Smencil that is purple.  The non toxic #2 pencil is made from 100% recycled newspapers and their motto is "Saving trees…one pencil at a time."   There's a purple sticker on the top end of the blue cap that says "grape" and a white label with purple trim that says grape in purple letters.  However the pencil is a dull gray color and there is nothing else purple about it.
I found a website on the pencil, edin.com.  I tried to check out their "Educational Insights" whatever that means, but the website doesn't come up.
The price is right and it smells divine, but I give it a 6 out of 10 for a lack of appropriate purple color.  What do you think?  And have a Grape Day.