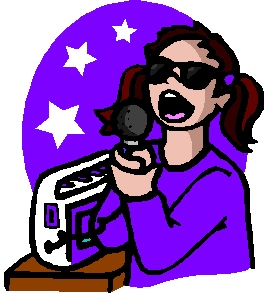 There apparently have been more than a few songs that mention purple.
Can you name some? How many can you name?
Not all of the songs are about the color purple and not all of the songs have purple in the title.
Name all the ones you can and I'll be back either later on today or tomorrow and share the songs I found.
Have GRAPE Day!
ANSWER:
Here is the list of songs I found on the internet that are supposed to contain the word purple in them:
Altogether Now
America the Beautiful
Aquarius
Barney Song
Bed of Roses
Born To Be Purple
Cherry Point
Curtain of Paradise
Dance of Sugar Plum Fairies
De Colours
Deep Purple
Down In the Valley
Fire Walk With Me
Galactic Dreams
Grapevines of Greece
Heard It Through The Grape Vine
I Can See A Rainbow
I Know Why & So Do You
I Want You
I'm Sensitive
Jealousy
Lavender Cucumber
Lilac Forever
Lilly The Pink
Lily Of The Valley
Lily Was Here
Lollypop
Magenta Skies
My Angel
My Purple World
Painters
Purple Cow
Purple Haze
Purple People Eater
Purple Rain
Purple Simon Moves the Pink Harem
Purple Skies & Peppermints
Purple Soundtrack
Purple Suede Shows
Purple Tattooed Lady
Purple Toupee
Raspberry Beret
Return To Magenta
Roses Are Red
Royalty Sky
Sail Away (Orinoco Flow)
Star Spangled Banner
Tell Me of Heaven
Ten Thousand Rose Petals
The Olive Trees
The Rainbow Song
The Water of Eternity
Welch's Grape Juice Jingle
Wells Fargo Wagon
What's Eating Gilbert?
Wizard Of Oz
Purple Shades
Pink Purple
Purple Electric Violin Concerto
Purple Passage
I don't even know some of these, how about you?