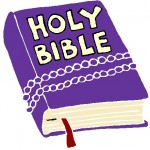 My friend, Peg,  has a grape blog that she just redesigned into an incredible place that I'll share with you on Friday.  It was good before which is why I had featured her here a while back, but now it's incredible!  As part of the redesign, she had some text up about how many times the color purple is mentioned in the King James Bible and I was surprised to find the number much higher than I had thought!
As my regular readers know, I have posted before about purple being the color of royalty and on the Purple Facts Page here on FLP, I have listed three scriptures that mention purple.  This is one of them:
"And a certain woman named Lydia, a seller of purple, of the city of Thyatira, which worshipped God, heard us: whose heart the Lord opened, that she attended unto the things which were spoken of Paul." -Acts 16:14
I'd like to have a little fun today by asking you all to guess how many times you think the color purple is mentioned in the King James Bible.   No fair looking it up, now!  Leave your answers as a blog comment and I'll be back later today to post the answer.  Then on Friday, I'll share the awesome blog responsible for bringing this info to us!
Have a GRAPE Day!
ANSWER: According to BibleGateway.com, the word purple appears in the King James Bible 48 times!  Carla got the closest with 50!  Congratulations, Carla!  Great job everyone!