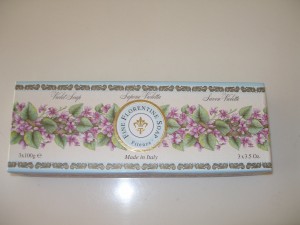 I got this lavender scented soap for Christmas.  It says, "Firenze Fine Florentine Soap" made in Italy.  It smells just delightful!  I usually don't use soap as I'm used to body wash, but I now have several of these so I thought I'd try it.
It's actually harder to shower with soap because it's usually difficult to hold if you have small hands.  However, the soap is small, so it's much easier to handle for small hands like mine.
The only problem I have with it is that it doesn't make much lather.  I like to shave in the shower using the lather from the body wash, but I really can't do that with the soap.
Even still, I'd have to give this a purple thumbs up!  I'm not sure soap does lather as much as body wash does and, though I prefer the lather and ease of body wash, I do adore using this luxuriously scented lavender soap!
Ever tried lavender scented soap?  What was your experience?