I pray you had a purple-icious Mother's Day!  I sure did!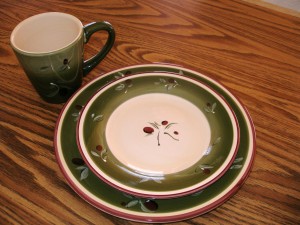 Here are my new dishes!  Aren't they gorgeous?  After 23 years of marriage and three sets of chipped, cracked and discolored dishes we had mismatched together, we decided it was time to purchase a new set of dishes.  So, of course, I had to get them in some shade of purple!  They are plum colored fruit looking things set on a pattern of green.  I just adore them!  And the best part is, they are microwave safe so I don't need potholders to take them out of the microwave!
Yes, we got married so long ago that it was before microwaves were popular!  The dishes didn't come microwave safe back then.
###########################################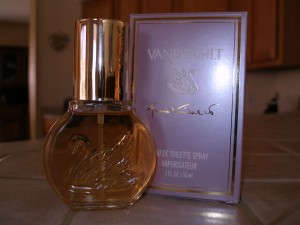 So my next Mother's Day gift is just precious!  My 10 y/o son knows how much I love purple and how much I miss his sister who is 1800 miles away at college.  He bought me Vanderbilt perfume because the box is lavender and my dd attends Vanderbilt University!  Wanna know what's even better?  I LOVE the fragrance!
I hope your Mother's Day was as purpley blessed!
Have a GRAPE Day!