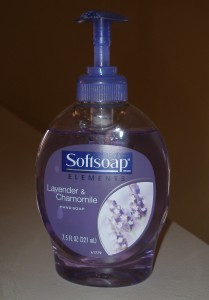 Softsoap Elements makes a Lavender and Chamomile handsoap that is not only a lovely shade of purple, but smells divine!  Some of these soaps smell like detergent and others are so flowery they make me gag, but this one smells absolutely heavenly.
Heaven must smell like lavender!
I bought mine at Walmart!  Don't forget that For the Love of Purple.com is an affiliate of Walmart.com.  Each time you purchase what you already are going to buy from our affiliate links, you help support www.FortheLoveofPurple.com!
You can check out all our affiliate links here!
Do you have a purple product you have tried?  Write/post your review!  You can either post it on your blog and paste the link in to a blog comment or you can post your review right here!  All purple people will benefit from your purple product review so please feel free to express your opinions about any of the purple products you have tried!
And have a GRAPE Day!