When I first started this blog, I spent a year on The Purple Project where I turned ordinary UNpurple things into grape things.   I did some with purple dye, some with sewing, some with buttons, some with applique and some with paints.  Now begins a new For the Love of Purple Era!
In my "day job," I've been creating a lot of YouTube videos for Art of Eloquence.  Not being a techie, it's been a huge learning curve, but I'm getting pretty good at it.  So I thought I'd try my hand at some grape new videos based on some of the Purple-ized Stories I've been writing here on the blog.  So over the next few weeks, I'll be sharing some of my purple-ized stories with you.  I'd love your feedback on them and then at the end of these few weeks, I'll ask you all to rate them from first to last with number one being the one you think I should make into a Purple Video first.  Here is my very first Purple-ized Story.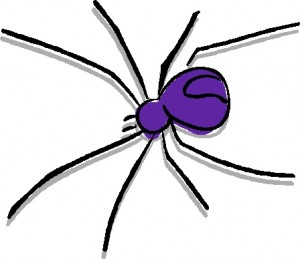 The Itsy Purple Spider
The Itsy Purple Spider went up the violet stem
Came a purple finch that pushed him down again
He spilled some grape juice on him and pushed him in the door
Now the Itsy Purple Spider was purple all the more
x
Everybody sing!  Have a GRAPE Day!