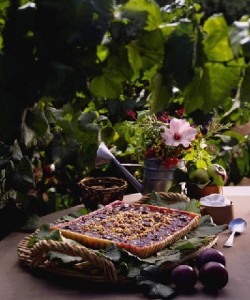 It's getting close to Thanksgiving!  What a special time of year.  It's going to be rather odd around here this year.  For the first time, our dd will not be home for Thanksgiving.   She's a Russian exchange student this semester and they don't allow off for American holidays. They're funny that way. lol
But to make this Thanksgiving a bit more festive…and PURPLE, I thought I'd include a fun recipe for Plum Pudding:
Ingredients
* 12 plums, pitted and halved
* 1 cup white sugar
* 1/2 cup water
* 2 tablespoons tapioca
* 1/2 teaspoon ground cinnamon
* 2 1/4 cups all-purpose baking mix
* 3 tablespoons white sugar
* 2/3 cup milk
* 3 tablespoons margarine, melted
Directions
1. Preheat oven to 350 degrees
2. In a 2 quart baking dish, stir together plums, 1 cup sugar, water, tapioca and cinnamon.
3. Bake in preheated oven for 25 minutes.
4. Preheat oven to 450 degrees F
5. In a medium bowl, stir together baking mix, 3 tablespoons sugar, milk and melted margarine to form a shortcake dough. Drop dough by spoonfuls onto baked plum mixture.
6. Bake in preheated oven 10 minutes, until golden brown. Let cool slightly before serving.
Have a GRAPE Thanksgiving!