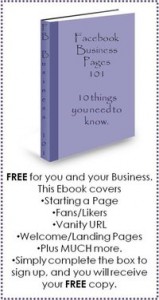 A few weeks ago, a For the Love of Purple.com Facebook fan page member tagged me in a post because she was sold on an ebook partly because of the color!   It was purple!   It's called Facebook Business Pages 101. It was free on the Facebook Business Pages Fan Page so I downloaded it and was I blown away!  Most freebies about internet marketing are badly written and contain no useful information, but this one had some grape information!  It helps you create and market your Facebook fan page from the beginning and uses terms and ideas even the Techno DoDo, like yours truly, can understand!
I've had two fan pages for a while now and have had some success with both, but I hadn't even considered some of the ideas she talks about in her free book!  Fascinated by the purple hue of the ebook cover, I investigated the author a bit more to find that her entire website is tastefully decorated in accents of purple!  She even has a welcome video on her home page with a purple border!
Here's a bit about the author, Erin Dawson.  Erin is the owner of Dawson Documents.  She is a Virtual Assistant who assists other small businesses with their administration, design, Facebook and printing needs.  Erin is a work at home mom living in Perth, Western Australia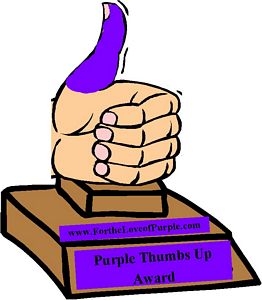 and is "mum" to a young son and daughter.
Two Purple Thumbs waaaaaay, way up for this little eBook and the author!  I plan to implement many of the tips in her book very shortly for my For the Love of Purple Fan Page, which has about 230 members, as well as the Art of Eloquence fan page, which has almost 1300 members.
Check out her fan page and sign up to snag a copy of her purple eBook!  Post on her wall and tell her hi for me!
Facebook Business Pages 101 is a very helpful little purple eBook.  Blessings to Erin Dawson for offering it to us as a gift!  If you need a VA, you might want to contact her.  If her eBook is this helpful, I'll bet she is too!
Have a GRAPE Day!