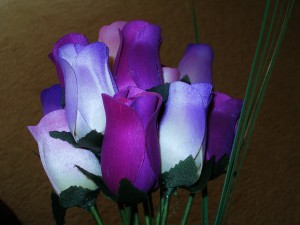 I posted these lovelies on For the Love of Purple's Facebook fan page but I didn't do a proper review at the time.
My dear friend and editor, Carla Ives who has her own fan page on Facebook, sent these to me for my birthday.   Aren't they the most gorgeous and delicate purple roses you ever saw?  They look like they are silk, but in fact, they are made of wood!  Much sturdier than silk flowers and, of course, the most gorgeous shades of purple.  These little wonders are hand made at The Craft Barn!  They are incredibly well made and absolutely purple-icious!  They even came with a sweet personalized note telling me who the gift was from!
I loved them so much that I contacted the owner of the site to ask her for more information about her products, becoming an affiliate and to have her say a quick hello to my GRAPE readers to introduce The Craft Barn to you all.  Here's what Jennifer had to say:
"Hello from the Southern Tier of Western New York!! I'm a farmer's wife, mom of 2, and a craft addict! I love to make a variety of crafts – from fabric to cross-stitch to painting! I believe a handmade gift is the best kind of gift to give!! And because of my love of crafting, I decided to open my online shop – The Craft Barn. I currently have a variety of items for sale – and have recently expanded my creativity into pattern making & designing. So…along with the handmade items for sale, is a small (but growing larger bit by bit) selection of sewing patterns for sale as well."
Several of The Craft Barn's items are purple too!
1. Personalized Purple Fleece Blanket
2. Purple Daisy Chapstick Holder
3. Purple and Green Heart/Doily Table Topper
4. Purple Notebook
5. Purple Grapevine Heart Thank You Cards
Carla says their customer service is first rate, too!  I must say that I received a speedy response when I contacted Jennifer to ask about The Craft Barn!  Her work is wonderful, her prices are reasonable and her customer service is outstanding as well!  Isn't The Craft Barn a purple-icous find?  The Craft Barn gets two purple thumbs up
from FortheLoveofPurple.com!
For the Love of Purple is now an official affiliate of The Craft Barn so anything you purchase through our affiliate link (click on The Craft Barn graphic) will help support FortheLoveofPurple.com, EVEN if you buy something that isn't purple!  (Did I say that?)
Share your thoughts and have a GRAPE Day!