Ok so I've been having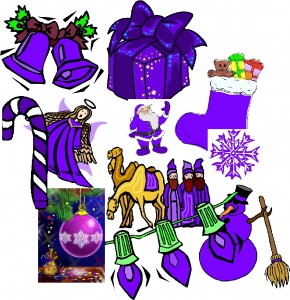 so much fun on the For the Love of Purple Facebook Fan Club.  I've decided to post a purple-ized Christmas graphic each day and I've been calling it the 25 Purple Days of Christmas.  I realized that this is a fun and easy craft to do and would make a great post for The Purple Project.  First I'll show you all the ones I've done so far and then I'll share how I do it.
Now I am sure there are other ways to do this, but I've been using PrintMaster.  It's a fairly inexpensive software for graphics and pictures.  It has a unique feature called the Advanced Drawing Editor where you can actually change the color of each piece of the graphic.  Not all of the graphics (and I don't think any of the pictures) have this feature but the ones that do, make a perfect way to purple-ize computer crafts.  You can make some fun Christmas Cards, kitchen crafts, note cards, letterhead, or party crafts.
It's great for posting things up on your blog too.  But above all it's a fabulous tool for putting a little more purple in your life!  Merry Purple Christmas everyone and have a GRAPE day!