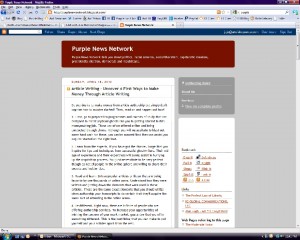 It's the start of a new year and changes are a comin' here at For the Love of Purple.com!  I've added a new category to the purple line up this year, Purple in the News!  Each Monday, I'll try to bring you some newsworthy purple tidbit.  I begin the year with something I came across while looking for purple news items.
The Purple News Network sounded like a really promising idea until I clicked through to the blog because the first thing I noticed was, well, it's not even close to being purple.  It's gray and burgundy!  However on closer examination, that is the least of its problems.
As many of you know, in my day job, I'm an author and speaker on the subject of communication skills over at Art of Eloquence.com!   I couldn't help but notice that something was amiss.  First, the tag line on the blog says it's political:
"Purple News Network tells you about politics, racial america, social liberalism, capitalistic idealism, presidential election, democrats and republicans."
However, the posts seem to all be articles on article writing…and they have some grammatical issues at that.  Here is the first line of the last blogpost dated April 18, 2010:
"Do you desire to make money from article authorship but simply don't cognize how to acquire started? Then, read on and happen out how!"
The next article down entitled, "Announcing the 4 Greatest Tips for Writing Articles" has this tip:
"4. Deliver perfect articles. Set your articles aside and reappraisal them after 24-48 hours. It's not a good thought to proofread them right away as mental fatigue might acquire in the manner and this volition surely impact your judgment. Guarantee that your articles are flawless, interesting to read, entertaining, and highly informative."
Since her last post was in April of 2010, I am assuming she put this blog aside for longer than 48 hours in order to "reappraisal" it.
Have a GRAPE Day!