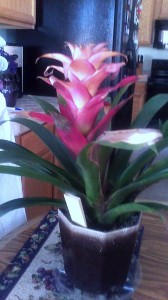 My folks are away on vacation celebrating their 50th wedding anniversary so I'm purple plantsitting for a while.  Each day, I add water to the middle of the plant below the purple-ish flower to keep it nourished.
I was nervous about this as I seem to have a black thumb (not a purple one) which is the reason I own all silk flowers.  See the one behind this to the left?  It's a purple silk flower bouquet.
I'm happy to do it, especially since it is a purple-ish flower.
This picture was taken with my new purple camera so it makes it even more purple-icious, doesn't it?
This past desert winter has been awful for the desert plants here in ARIDzona.  It was so cold that our outside purple bushes and trees are dying.  I'm hoping they will "come back" after the winter is officially over, but I don't hold out much hope.  I'll post pictures of them later on when I know for sure.  Right now it's too sad to see my gorgeous purple bushes looking so crispy!
Do you have any purple plants or flowers around your house?  Do tell and please post a link to a picture, if you can!
Have a GRAPE Day!