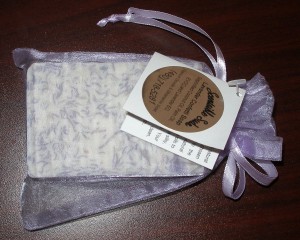 My mom and I frequent the craft shows here in Phoenix and we run into the most wonderful products!  This is one of them.  In fact, the woman who makes these has so many other fabulous products, I had to make this purple product review a two-parter!
Dyanna Yost is a Paramedical Aesthetician who has a line of yummy Scentsible Suds and Soy specializing in all natural soaps, skin care products and soy lotion candles.  "Dyanna Yost CMA, CMI, FAAM, is the founder of Scentsible Suds and Soy and is one of the most dynamic talents in the arena of skin care.  She is an accomplished paramedical aesthetician and makeup artist with over 25 years of experience as a skin care professional in beauty industry.
Dyanna formulates and designs all natural soaps, skin care products, and soy lotion candles.  She owns a skin care clinic in Old Town Scottsdale where she works with clients by appointment only.  If you are looking for all natural soaps, skin care products or a skin care professional to care for your skin, Ms. Yost ranks among the top of your best resources."
The first thing I noticed on her craft table were the purple soaps.  This one is so pretty, isn't it?  And it smells heavenly like the Lavender Confetti Soap that it is!  It's intoxicating!
She had a soap that was even more purple that was a Relaxing Lavender soap, but I just adored the delicate confetti look of this one!  Check out the pattern up close and personal.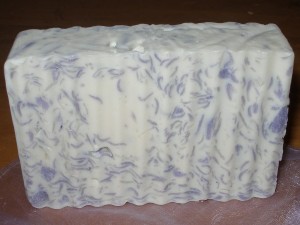 Isn't that beautiful?  And just wait til you see the other scents she has!  There's Lavender Confetti; Relaxing Lavender; Lemongrass and Lavender; Oatmeal, Milk and Honey; and even Coffee!
"Scentsible Suds are handcrafted soaps made with all natural ingredients.  There are absolutely no artificial dyes or preservatives in any of our soaps.  All of our soaps are made in small batches with quality ingredients and are made by hand from start to finish. They are created to bring you simply the very best in skin care.
Carefully selected pure, all natural vegetable and nut oils are chosen for their many benefits  to the skin.  We use only 100% all natural essential oils and infused oils to scent our soaps giving you a silky, fragrant bathing experience.  Your skin will be left feeling clean, moisturized, soft and smooth."
But that's not all!  Her website, business cards and the little delicate soap sachet bags she uses to wrap her soaps in when she gives them to you are all PURPLE!  How grape is that?!
When you use this soap, it's not like the one I reviewed a few weeks ago where I said it smelled nice enough but didn't lather or seem to moisturize.  This one is luxurious! It does actually lather and leaves your skin soft.  I even used it on my face and found that it doesn't dry it out!
This review is already getting kind of long, but I haven't yet told you about all the other great products she has!  So next week, I'll tell you about all the other products she has.  Until then…
Have a GRAPE Day!