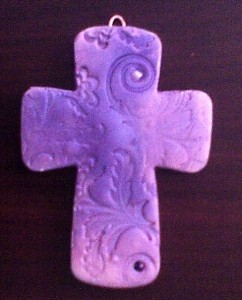 I received this gorgeous purple clay cross from www.InspiringClay.com the other day. It's pinky purple with a beautiful design and accented in metallic-like or pearlized purple paint.  This picture really doesn't do it justice, either.
It has a hook at the top so you can hang it and is accented with pearl and purple jewel inserts.
What I found out was that Tara Burner makes each one of her clay creations by hand using clay, micas and glass seed beads and/or crystals for accent.  She prays over each creation she makes while making it and before shipping it to each client.
InspiringClay.com has several other pretty purple products as well!   She has this gorgeous purple glass pendant, one in lavender and pink and this one in a soft violet!
If you're looking for something special…in PURPLE, check out Tara's website! http://www.InspiringClay.com
Each item is made with love and prayer just for you!   What could be more purple-icous than that?
Have a grape day!