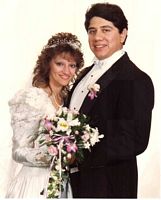 Once upon a time, there lived a grape girl who was in her second year of college.  She had pledged Sigma Kappa the year before and loved wearing her lavender sorority t-shirts.  Her first sorority meeting of the year had a scheduled visit by the Lambda Chi Fraternity.  A sea of green jackets sang to them songs of  sweet silliness.  The girl didn't like the way she looked in her glasses, so before the guys came into the room, she took them off.  Unfortunately during the serenade, she couldn't see any of the faces wearing the green jackets or the pledges who were waiting to get theirs.
On her first day of psychology class, she met a polite young man.  He thought she was pretty grape too and they began talking.  When class started, the professor noticed the affection the young man was paying the grape young lady and began calling him Romeo.  After class they would frequently be seen together on campus talking about life.  That next semester, after his initiation ceremony, the young man was wearing his green jacket.
As time went by, they fell in love and five years later after college graduation, the green young man and the grape young lady wed.  Her bridesmaids wore lavender and some of them who had worn sorority lavender in college sang to them both as they began their lives together.
A few years later, the green man and grape lady welcomed a daughter and nine years later a son.  They decorated their home in green and purple hues and spent many years enjoying blessings and enduring hardships.  A few years ago, they had to say goodbye to their daughter as she left for college and then again when she left to be a Russian exchange student for a semester.
Today is the anniversary of the day the green man and the grape lady began their life together.  Can you guess how many years their colors have been intertwined?