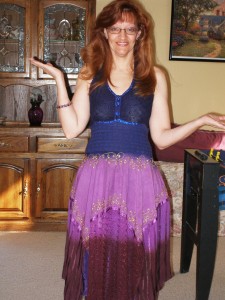 My mom and I went window shopping at the mall one day when we spotted these Indian flowing dresses.  So graceful and feminine, we had to stop and talk with the lady selling them. She had such an adorable accent too!
She had all sorts of pretty color combinations, but only ONE with purple.  My mom and I talked her down as they were not cheap, but I still didn't want to spend the money.  Mom thought the dress was so me, she insisted she buy it for me.  It's my early birthday present which is in September, but I got to wear it for Mother's Day! My son took this picture just before we left.
I am hoping I'll get the picture my mom took with the shawl on before this post comes out or I'll post it in here later on.   I wore it with my dd's Christmas gift: a purple shawl.  It was perfect for the restaurant because it was a bit chilly with the air conditioning on.
The dress is just gorgeous, but it is quite see through. I had to wear a slip underneath it.  You can see the slip under the slit there which really does match the dress better in person.  It fit very well, but there is a sore spot.
On the sides of the blue upper part of the dress are sequins sewn on individually.  Now a few of them were loose and had to be cut off.  That's one of the reasons for the discount.  Since they are individually sewn, you don't have to worry about unraveling them all.  Nice!  And the dress comes with several sequins you can sew on.  So that didn't bother me too much.  What did was the scraping of the sequins into my skin on the sides near my arms!  Ouch!
Each side was red and raw by the end of the night, but I did look GOOD, didn't I?   I'm going to have to see if there is a way I can fix this so it doesn't bother me next time I wear this dress, because there WILL be a next time. I love this dress. It's perfect for the ARIDzona summers!
Overall, a grape find, but a bit of a "pain."  LOL
What do you think?  Have a GRAPE Day!