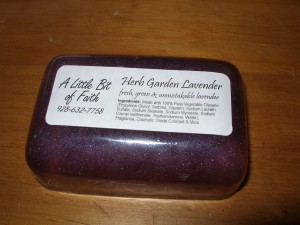 I bought this purple bar of soap at one of the craft fairs my mom and I frequent.  This acquisition was from our last outing.
The company is called, A Little Bit of Faith and this is their Herb Garden Lavender scented bar.
The color is a deep purple, it smells heavenly and it doesn't dissolve quickly as many soaps of this nature do.
It glistens when the bar is put under water and the color that comes through is truly magnificent.
I have tried many handmade bar soaps and I've loved almost all of them.  However, most of the clear bars tend to melt quickly in hot water and they don't usually have such a strong scent.  This bar is very different and I was happily surprised.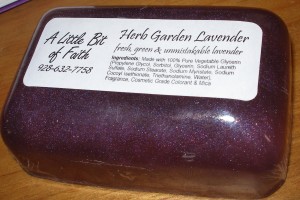 A Little Bit of Faith doesn't have a website that I know of, but you can see the telephone number on the label.  I'm not sure if they sell to those outside of Arizona, but they were reasonably priced and I think it would be worth a try to see if you could get this wonderful lavender scented soap bar for yourself.
If' I'm lyin', may my mouth be washed out with this soap.  Have a GRAPE Day!