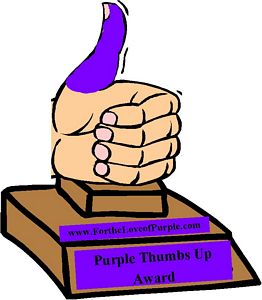 For those of you who have read FortheLoveofPurple.com for a while, you may remember the Purple Thumbs Up Award. This is the award given to a website or blog that has the spirit of purple.
Do you know any websites or blogs that fit this description?  Nominate your favorite purple site or blog and in a few weeks I'll create a poll where you can vote for the grapest blog or site of the month!
To nominate a site or blog, simply leave a comment with the name of the site, the url and why you believe it should receive the Purple Thumbs Up Award.
Don't forget to tell all your grape friends and have them come down and nominate their favorite purple site!
Let all your Twitter, Facebook, blog and Yahoo friends know that their purple site or blog could be nominated.  The more the merrier!
Have a GRAPE Day!