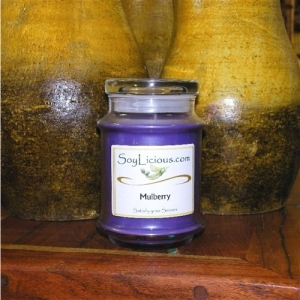 Rose from Soylicous Candles ( http://www.Candles-Are-Us.com ) contacted me to offer her grape product for review here at For the Love of Purple.com.  She sent in this Muscadine Grape candle.  I'm kind of a candle fan anyway so I expected to like her product, but I never expected this!
Even before I opened the package I smelled a heavenly scent!  It smells good enough to eat!  Truly you will be hungry when you get near it.  That's how delicious it is!
Rose says her Flowerpot Votive is double size and comes in it's own votive holder with black gift box included.  (Very chic, by the way!)  This 4 ounce votive will burn for 30-35 hours and is available in 60 scents!
Soylicious Candles is a company that has been in business a little over a year.  All candles are made of soy and are eco-friendly.  The company also has opportunities for consultants.
There are several purple-icious items on her site:
Other purple candle: of the Mulberry persuasion!
Wood Wix Violet Candle
Lavender Soy Soap!  (I'd LOVE to "review" this one!)
And just look at all the fragrances they have!
Rose also has a Facebook Fan page called Soylicious Candles and More!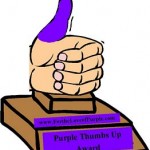 Thanks, Rose, for sharing this delicious grape candle with us here at For the Love of Purple.com!  You get a purple thumbs WAY up!  And if you ever feel like sending in your Lavender Soy Soap for review, I'd love to "review" it during my showers!  Wink!
By the way, I put the candle up on my fireplace mantle in the family room and the entire room smells just GRAPE!  You can probably smell it from HERE! LOL
Everyone please leave a comment and share what you think of this gorgeous candle or your experience with Soylicious Candles!  Have a GRAPE Day!