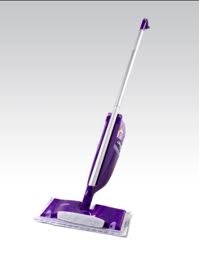 It's fabulous and it's purple!!
In twenty three years of marriage, I've had many types of mops.  Sponge mops, rag mops, mops that look like rag doll hair, mops that you wring out, mops you squeeze, etc.  I never liked any of them.
They all moved the dirt around pretty good and allowed your floor to go from white to gray and your socks as well.  Never walk on a newly mopped floor with clean socks or you'll get dirty sock bottoms!
Well, now I don't have to worry about that!  Swiffer is known for their technology where the dirt clings to the dusters. I love Swiffer Dusters and use them all the time.  Too bad they aren't purple.  It actually picks up the dust much better and allows me to dust in less than half the time!  I'm just like one of those happy homemakers you see on their commercials bopping around as I do my weekly dusting!  I really like them.
So I was intersted in trying their wet jet mops.  I loved the fact that it was purple, don't get me wrong, but I was trying to avoid having to pay extra for their solution and extra pads.  I found a Libman wet jet that was supposed to be more economical, but I couldn't find anybody that sold it!  I even went to their website but they don't sell directly to the public.  They said they sold them at Walmart and Target but I never did find them there in my town.
Since Libman's were green and not purple, I decided to go with Swiffer and I am sooooo happy I did!  I love it!  It picks up all the dirt, hair, little crumbs and all!  The solution has a nice fragrance and makes the entire house smell so fresh!
If you are tired of your mop, you might want to give Swiffer's purple wet jet a try.  I highly recommend it.  Two purple thumbs way up!
Have a GRAPE day!