A long time ago in a galaxy far far away, I had these placemats made to match my kitchen.  But that was SEVERAL houses ago now and I am happy to report that I no longer need to match a light blue decor!  One side of these placemats were made light blue while the other side was beige.  Since they don't go in my lovely purple home, I haven't used them in ages!  But with a little purple puff paint and a wee bit of creativity, they are transformed into…Purple Project #3!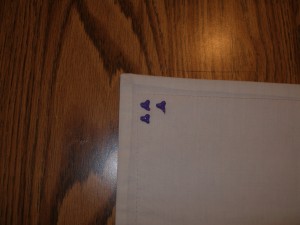 And the fun thing is I decided to make each one a different purple design:
NOTE:  Puff paints are known to stick to certain substances and peel off.   Placing a plate on top of the puff paint decorations may cause them to peel off with the plate when lifted, especially if the plate is hot.  For the reason, I intentionally left the middle of each placemat free and only decorated the outer edges.
What do you think?  Try it at home and have a GRAPE day!