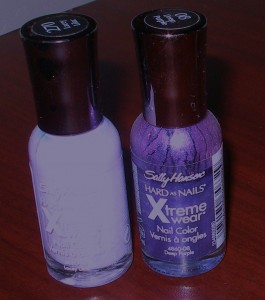 I tried taking several pictures of this but no matter how hard I tried, I couldn't get the lighter lavender nail polish bottle to come out clearly.  These are two different purple shades of Sally Hanson Hard as Nails Xtreme Wear Nail Color.
I actually reviewed the darker purple one before, but I wanted to compare the two as the frosted one was not quite as Xtreme as the cream colored one.  Both are very easy to apply and both are very pretty, yet different, shades of purple.  However, the dark sparkly and frosted shade didn't wear nearly as long as the other!  After about a week, the frosted nail polish was already chipping off.  It took almost twice as long for the other shade to begin to chip and peel.
Both are very reasonably priced and both are fun colors, but if you're looking for long lasting wear, the unfrosted one is your best bet!  I'd have to say, though, that my favorite color would have to be the darker and more sparkly frosted shade.
In my experience with nail polish, the unfrosted shades are much more long lasting than their sparkly and frosted counterparts so this isn't anything new.  It is just the first time I have had the opportunity to compare the same brand (and the same color) side by side!  What's your grape or not so grape nail polish experience?  Please share and have a GRAPE day!