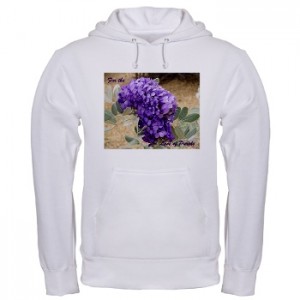 So many are experiencing cold (brrr) weather out there!  If you didn't get something purple for Christmas that will help you stay warm this winter, here it is!
Stay warm with our Hanes Ultimate Cotton Pullover Hood. Constructed with a heavyweight 90/10 cotton/polyester blend. Thick (but not bulky), comfortable, durable and guaranteed.
10.1 oz. patented PrintPro® fabric in a 90/10 cotton/polyester blend
Standard fit
Spandex trim in cuffs and waistband
Decorated with beautiful purple flowers!
Check it out here!
And remember that each purple product purchased through our For the Love of Purple store helps For the Love of Purple.com provide all your purple fun!  Check out all the purple tshirts, sweatshirts, mugs, totes, baby items, hats and have a GRAPE Day!