Hi Purple Lovers!
I'm afraid I cannot remember the grape purple recipe I found and so lovingly scheduled to be posted here, but in looking back to see if other posts had mysteriously disappeared, I found this one and thought many of my newest readers may not have seen it.  Sooo…here it is again.
I have a special treat for you this week on The Purple Project!  It's a recipe and you're going to think it's truly purple-icious!!
A friend of mine said she made a good chicken dish using grape jelly.  I thought it sounded gross, but she said it was really good.  So I looked online for a recipe and found several. Some used dried mustard, some used ketchup. Some used lots of different spices and some used just these ingredients.  I didn't have most of these ingredients so I was still searching when I discovered that one of the recipes using just mustard and ketchup said it tasted almost like a grape BBQ sauce.  So I decided to try it using BBQ sauce!   So here's my Grape Jelly Chicken Recipe.
Ingredients:
1 cup grape jelly
1/4 cup BBQ sauce
squirt of Dijon mustard
1 pound chicken tender strips
Directions:
While defrosting the chicken tender strips in the microwave, stir in the grape jelly into a large mixing bowl.  Measure out the BBQ sauce and squirt a top coating of Dijon mustard on top, just enough to cover the BBQ sauce. Coat chicken tender strips with sauce and place on glass baking dish with enough room so that they do not overlap.  Bake at 350 degrees for about 20 min or until done.  Put chicken strips and sauce into a smaller Corning Wear or other dish so the sauce keeps the chicken tenders from drying out.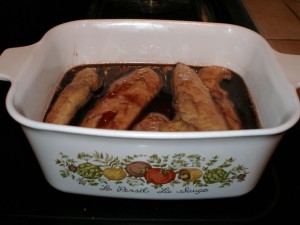 I served this with Rice A Roni, baked potato casserole and blueberry muffin mix I made into a bread.  The sauce was sweet, but didn't really taste just like grape jelly.  You can taste a hint of the BBQ sauce and a bit of the mustard spices.  I poured the grape jelly sauce over my rice and potatoes.
Official Family Reaction:
I thought it was delicious!   My 11 year old son said, "Only 45 percent of me likes it.  54 percent of me doesn't like it and 1 percent says YUCK" so he didn't eat the chicken.  My 20 y/o dd said it was odd to have a sweet sauce on chicken because she doesn't like sweet chicken, but it was good.  My husband said he liked it and would like to have it again, especially if I added some kind of hot spicy ingredient to it.  What do you suggest?
Make it at home and tell me what YOU think. And have a GRAPE Day!