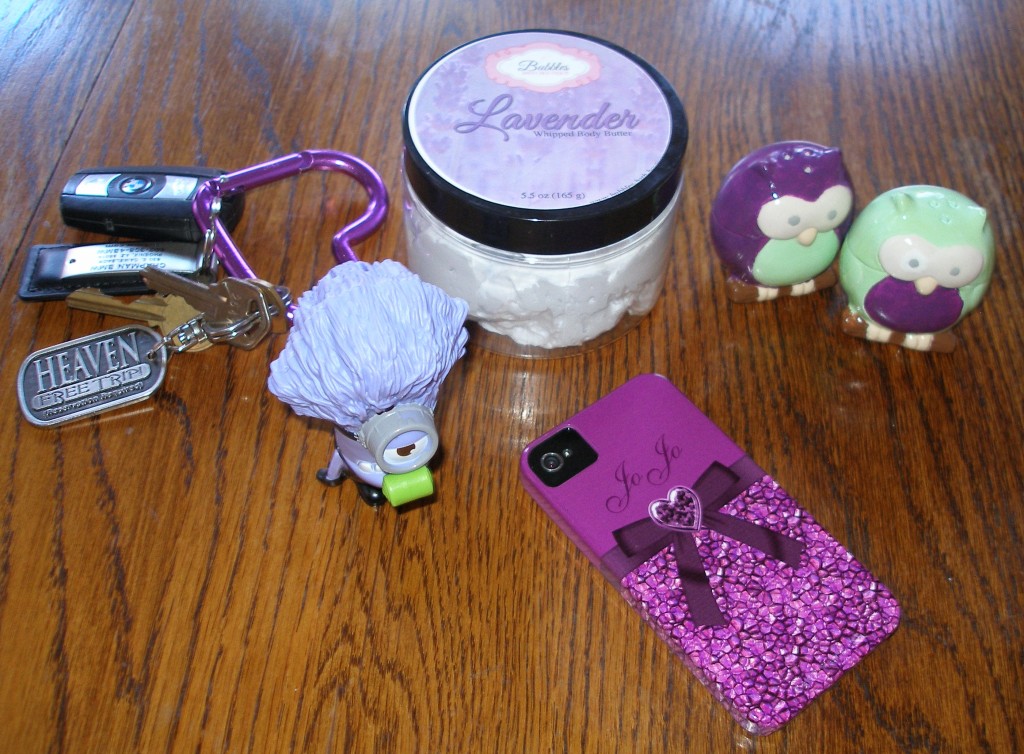 Last month was my birthday and I got some fabulous new purple things to add to my grape collection.  From left to right starting in the back:
My new purple heart keyring is something I actually picked up at a Sports Authority the month prior.  I love it because it fits on my purse strap so I always know where my keys are!
The lavender body butter smells JUST like lavender but it's quite greasy.  I use it at night and love the aroma when going to sleep.  Mom got that for me when I went with her to the first of our annual craft fairs.  Thanks Mom!
The purple and lime green salt and pepper shakers were made for me by my daughter.  LOVE them. Aren't they cute?
The one-eyed, purple minion was also a gift from my daughter.  She got a few minions while eating out at McDonald's. She told me about the purple one and had to get it for me.  Thanks, Sweetie!
Finally, the purple iPhone cover was a gift from my husband. Or rather it was a bribe so he could get me into the 21st century when my purple flip phone died.  I have the entire hilarious misadventure written up as some of my Daily Life Laughs on my JoJoisms blog.  Here's the first of in the series I called As the iPhone Turns!
For the rest of my birthday adventures, check out my JoJoisms post about how I began DEaging this year!