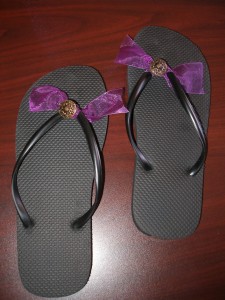 If you're new to For the Love of Purple.com, you may not know that on my 47th birthday in 2009, I made a commitment to do one purple project per week for a whole year.  It's hard to believe, but I've already completed 34 out of the 52 Purple Projects I have set out to do this year!  I'm more than half way through the year and the year is rapidly coming to a close.
So far I've had some surprising successes like my Glass Heart Paperweight Craft, my Drab to Fab in Purple Project, and my long awaited Purple Napkin Holder Craft, as well as one "Epic Failure" as I attempted to do a bleach pen project using Tide To Go which doesn't use bleach!  Who knew?!
I've overcome times when my creativity was tested when the project I had planned to do called for purple RIT dye which I couldn't find to purchase that week!  I've used my creativity to purple-ize Christmas and even to rewrite a nursery rhyme as The Itsy Purple Spider!
Through all this I have to say that my family has been extremely supportive.  This has really been a team effort.  My dh agreed to my spending money and time of this site and he has offered to let me buy whatever supplies I need each week.  I have tried to stay within a small budget and usually it's not been difficult to do!  My mom has been very helpful.  She's the one who named this site and she is always looking for purple things to help me purple-ize my home.  Just the other day she brought over another pair of purple rubber gloves for my kitchen and for Christmas she gave us those wonderful set of dark purple glasses!
As I am headed into the home stretch with only 18 more Purple Projects to go before my 48th birthday, I was wondering if you all could help me with some ideas.  I would like my last 18 weeks to be even better than the first 34!
I'd love to hear what craft projects you'd like to see.  Do you have anything that needs purple-ization?  Do you have a purple problem in your house?  Do you have something you'd like to hide with purple dye or decorations?  Do you have a Plain Jane hat or shoe you'd love to transform?  What things in your life need The Purple Project?  Help me decide what to work on next.
Thanks so much and have a GRAPE Day!