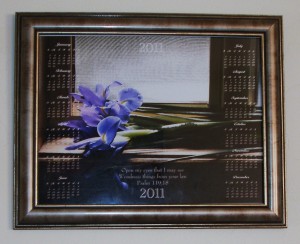 My dear friend Joan sent this amazing gift to me. I'm not a fabulous photographer as she is, so this picture doesn't do it justice at all.  However, I had to share this with you!  Joan Rudder Ward is a professional photographer and runs several businesses around that creative talent.  One of them is brand new.
Joan just started a website called Visual Psalms and it's the most creative idea she's had yet!
Visual Psalms will feature inspired images for your visual refreshment!  Joan says…
"This is an ever-evolving  site  as new  artwork is being created and presented.  We will have information posted soon on purchasing."
You can even sign up for  free monthly downloads and updates on new artwork!  Joan's photography is awe inspiring and shows the amazing beauty of God's handiwork. It's serene and uplifting and just plain fabulous!
Here's the skinny on this months free download: "This month's download is this vibrant one-page  calendar  that you can print on a  regular 8 1/2 x11- inch sheet of  paper."
I have known Joan for many years and this lady doesn't do anything half way!  Run!  Do not walk, to her website and sign up!  Oh and she has a Facebook Fan page where she posts a bunch of gorgeous photos too!
Notice that much of the text or background or graphics on both her site and fan page are purple!
What an incredibly inspired idea!  Stop by and become a fan of her Facebook Fan page and tell her JoJo said hello!