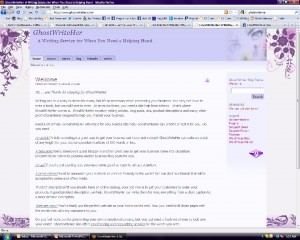 There's a new Ghostwriter in town and she's PURPLE!  It's called GhostWriteHer.com and it's the newest square in my dear friend Carla Ives' Patchwork Marketing Quilt.  Isn't it purple-icious?
Carla is a real WordSmith!  She's been helping small business owners for years by doing editing and proofing, but now she's branching out to include Ghostwriting for those business owners who either don't like to write or just don't have the time! 
What can she ghostwrite for you?
Articles
Blog Posts
Ad Copy
Product Descriptions
Web Site Copy
Press Releases
In addition to her Ghostwriting, Carla can also do:
Proofreading of documents up to 500 words and
Copyediting of documents up to 500 words
And the best part is that Carla's prices are incredibly LOW so that just about any small business owner can afford to take advantage of her services, even brand new start up businesses with no start up capital!  These services start at only $3 and most are $25 and under!
And Carla is incredibly easy to work with!  I've had her edit and proof many things for me over the years for Art of Eloquence and I adore working with her.  She's done a little ghostwriting for me as well over the years.  I'm always impressed with how much her writing will reflect my own personality when she has helped me with things like product descriptions or my website copy!
Here's all the grape ways you can reach Carla.  And don't forget to check out her grape GhostWriteHer.com fan page on Facebook too!
Have  a GRAPE Day!