The Purple Project is proud to present to you this week, The Purple Jar! This project requires very little preparation time and uses things that are found around your house.  No need to purchase anything and there is very little in the way of expertise required!
I just cut two purple flowers off a silk flower bunch I had and placed them inside.  I, then, took a gold, pleated ribbon that has wire inside.  I simply molded the wire around the cap and screwed it back on.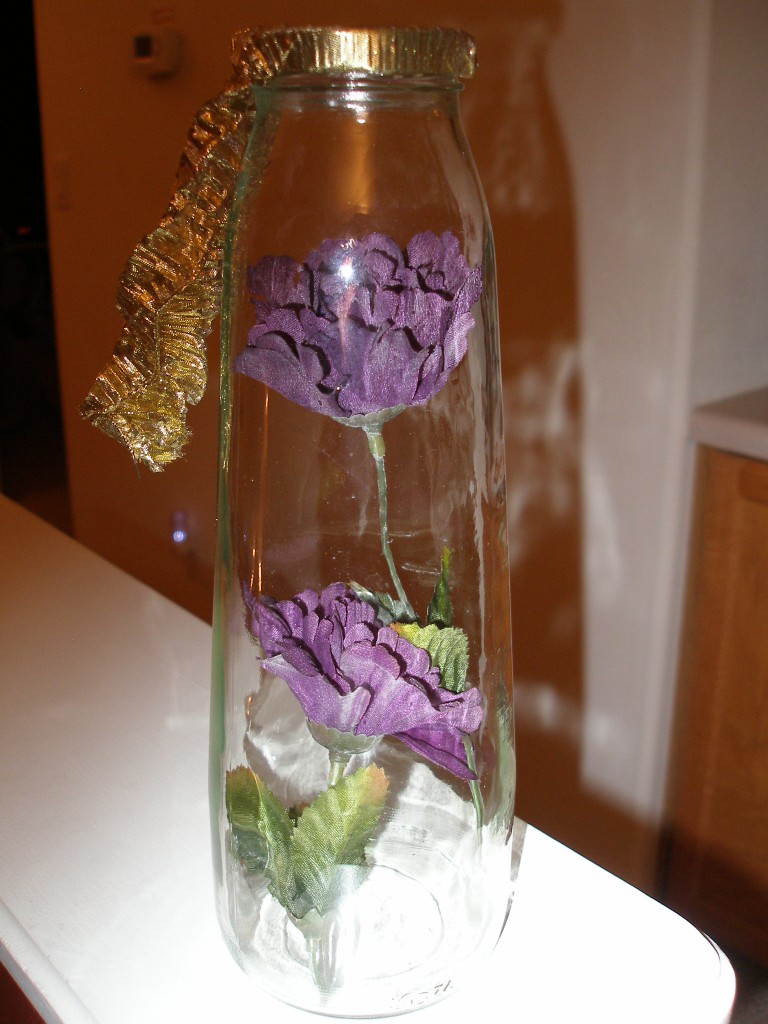 Here are three other versions: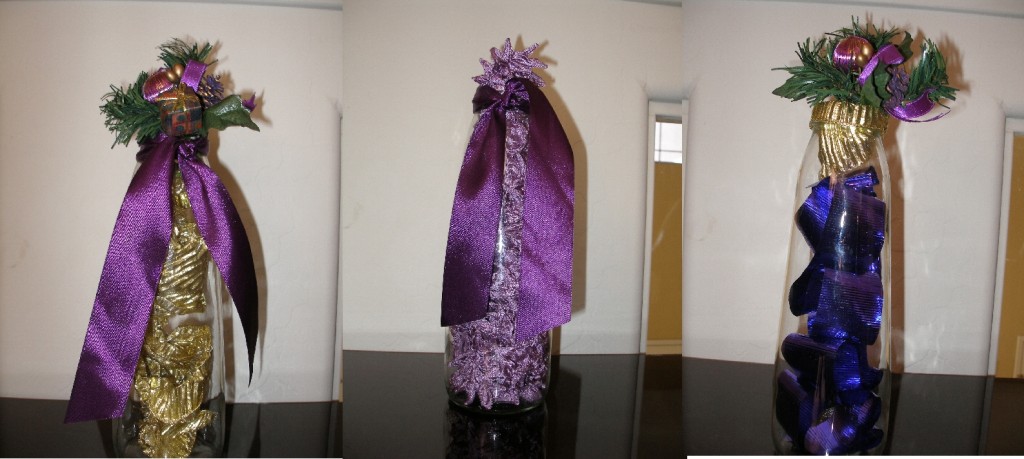 The first is a gold pleated and very wide ribbon with wire on both sides so you can squish it a bit without it falling to the bottom of the glass.  Topped off with a wide purple ribbon and a wire package ornament.
The second glass is filled with one of those short puckered blouses that stretch.  It created a nice texture.  I topped that off with the same ribbon and left a bit of the blouse sticking out.
The third glass is filled with dark purple/blue wide "Metalique Crepe Streamer."  I took a piece of the pleated ribbon and formed it around the top of the jar with ornament on top. The color of the ribbon and ornament DO match but I couldn't get the picture to reflect that.
Now you could also fill the jar with purple marbles or glass stones and cover the top of the jar with purple or gold fabric.  You could also fill the jar with colored water or even clear water and leave some light weight purple items to float inside.  I didn't have anything that would work so I couldn't show you that one.
I left one of these on my small table between two office chairs and it looks fabulous!  The jar is rather tall so it works very nicely in the space.
Hope you enjoyed these and are getting some ideas for your own home or office.
Have a GRAPE Day!