Before we get to our What is it Game, I want to take this time to recognize all our grape military this Memorial Day.  To all who have given the ultimate sacrifice and to our active military as well as their families.  THANK YOU!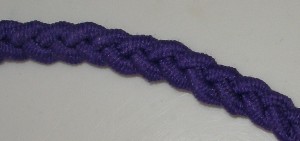 It's time again for that new feature of grape fun: What is it?  This is the time of the week where I post a picture and you guess what purple item it is.  It could be a bird's eye view as it was the first week with the perfume bottle or it could be a picture of only a small part of an item like last week.  Either way, your grape mission, should you decide to accept it, is to guess.
So…what is it?  I'll post the answer later on today or tomorrow.  Good luck and have a GRAPE Day!
X
ANSWER: Carla got this one!  (Though she says she' s not good at this!)  You all had such wonderful guesses.  It's actually a braided stretchy hair band. I have two of them.  One is blue and purple braided together.  I wear that one when I have blue jeans on with my purple shirts. ;D Thanks for playing along everyone. I'll have another one for you next week!